Garage storage lockers can provide a convenient location to store dirty shoes and wet jackets when you enter the house. Plus, this one has seats that flip up to reveal extra storage area for toys, sports gear and other gadgets. Check it the features:

Lifetime Storage Lockers
Storage Lockers Minimize Clutter & Help You Stay Organized…
For example, the sturdy hooks allow you to hang all sorts of jackets, backpacks, bags, scarves, umbrellas, hats, keys, etc.. And, when everyone in the family has their own individual locker space, they can customize it their own liking.
Plus, when you have a designated area for your most frequently-used stuff, you can find things much more easily. Not to mention, these garage lockers reduce clutter and help you keep your gear more organized.
Garage Storage Lockers VS Other Mudroom Options:

You can buy multiple units and connect them together to create a wall of lockers, depending on how many you need.
1. Cost Effective
The cost of each locker space breaks down to about $100 ($200 for a double-wide locker). For example, you can assemble a 6-person "mini mudroom" with 3 units in an afternoon for about $600.
2. Simple to Install
Compare this to the time, effort and money it would take to build your own garage mudroom. These garage storage lockers seem like an easy decision.
(Although you can see how to make a cheap DIY garage mudroom here.
3. Durable & Easy to Clean
Plus, the weather and stain-resistant heavy duty plastic resin stays looking good with minimal maintenance. In other words, you can easily clean off dirt and scuff marks (or hose them down if you use them outside).
4. Secure & Sturdy
In addition, each unit includes with anchors. Therefore, you can securely attach the locker backs to the wall so they don't move around or fall down.
5. Versatile Storage Options
Compared to most garage cabinets or shelves, these lockers provide hanging space as well as seats. (Plus, the upper shelf, seat drawer and shoe cubbies, of course.) A place to sit while putting on your shoes can sure come in handy.
2-Wide Garage Storage Lockers Video Review:
This quick 1-minute video demonstrates different applications for these plastic storage lockers. In other words, you can use them in several different ways.
Lifetime Lockers with Bench Seats
Use These Storage Lockers Indoors or Outside:
For example, their sturdy, waterproof material enables you use them outdoors. You can use them to keep swimming gear, pool toys, gardening supplies and more.

The durable long-lasting molded plastic resin has UV protection and can stand up to all kinds of weather. Therefore, you don't have to worry about the surface chipping or cracking.
On the other hand, these well-designed open lockers look nice enough to even use them indoors. For instance, place them near a back door, in a laundry room or design a conveniently-located mudroom.
These open-style lockers offer an easy way to "teach" kids to put away their shoes, jackets and backpacks instead of creating tripping hazards around the house. =)
Note: Each 2-wide locker unit includes 2 benches with flip-top storage compartments, 6 heavy-duty metal hooks and 2 built-in shoe shelves.
Although these sturdy plastic lockers were designed for garage use, you don't have to use them in a garage. In fact, because they only weigh 53 lbs per unit, you can easily move them from one spot to another when you need to. For example, outdoors in the summertime and indoors during winter.
Specs for Lifetime Home and Garage Storage Lockers:
Dimensions: 45." Long x 18″ Deep x 65″ Tall
Weight: 53 lbs
Weight Capacity: 225 lbs
Material: High Density Polyethylene (stain resistant, UV-protected)
Color: Light and Dark Grey
Assembly Required
Model #: 60226
Manufacturer:

Lifetime Products
Assembly Instructions for Lifetime Garage Storage Lockers
You can download the product manual from the Lifetime Products website by inputting the model number (60226). In addition, they provide customer support through a toll free phone number and email.
Phone: 1-800-225-3865
Email: [email protected]
Check out the height, width and depth dimensions below: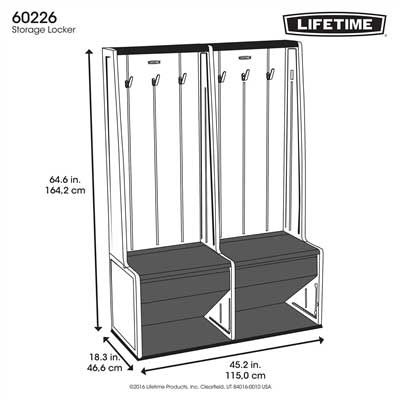 From reviews, customers agree that putting together these garage lockers is quick and simple. Plus, the entire unit only weighs about 50 lbs, so one person can assemble it without needing assistance.
If You Want Garage "Lockers" with Doors…

Alternatively, you can opt for full-length, tall plastic storage cabinets that you use as lockers.
Some people prefer to have all their gear concealed behind closed doors. Therefore, you can get as messy as you want. =)
However, with these Keter storage cabinets, you give up the easy accessibility that open storage lockers provide. You also don't get the coat hooks or bench seating. But maybe you don't want to sit down anyways…