Do you want an extra large storage cabinet that you can use in the garage or out in the yard? This 7-foot tall vertical storage shed is waterproof, weatherproof and lockable, so you can use it inside or outdoors.

Where to Set Up a Tall Indoor/Outdoor Storage Shed:
1. The unit is constructed of a durable, heavy duty resin material. However, it looks nice enough to use for indoor storage – like in a laundry room or pantry. The cream finish, shuttered doors and patterned siding gives it upscale style.
2. If you have an open garage or carport, a tall narrow shed like this can provide a good amount of protected storage without intruding on parking space. You don't have to worry about rain, critters or dust, plus you can lock the doors for added security.
3. Alternatively, this shed fits well on many decks or patios without looking like an eyesore. Reduce outdoor clutter while also keeping gardening tools, equipment and seasonal decor easily accessible.

Note: Keep in mind that this unit does not come with shelves, you buy a shelf kit separately.

As a result, you can customize the interior storage space and even fit tall or large items like mowers, grills or bikes. The double-wall panels are strong and can support shelves and hooks.
What Can You Store in this Vertical Shed?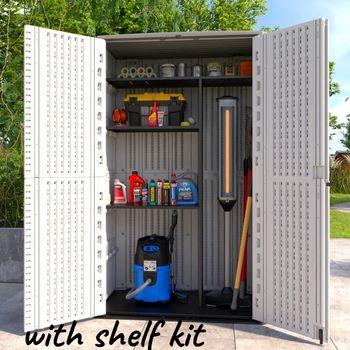 I really like this container because it's so versatile. Like I mentioned above, you can store large items like a lawn mower, a BBQ, bikes, larger garden equipment and firewood.
On the other hand, the space can hold seasonal outdoor furnishings like seat cushions, camping gear, kids toys, etc.. This cabinet is really practical and can help you keep items organized and easy to find as well.
Furthermore, this large shed can keep paint, tools, cleaning products and more. Depending on how much stuff you have, you may be able to fit everything in one unit, while de-cluttering your garage at the same time.
DIY Storage Shed Assembles Quickly:
Another advantage of this cabinet is that it's simple to put together. Basically, it comes in smaller panels that you connect with screws. Just follow the included instructions. In many cases, one person can do the job.
Note: The durable resin material makes this cabinet super low maintenance. For instance, you don't have to worry about rust or decay, and it's easy to clean with a hose or damp cloth. Plus, you don't have to re-seal it or paint the exterior.
Specs for the Indoor/Outdoor Vertical Storage Shed:
Dimensions: 59″ Wide x 29″ Deep x 82″ Tall
Storage Space: 52 Cubic Feet
Weight: 118 lbs
Material: High Density Polyethylene Resin
Waterproof: Yes
Color: Beige/Cream
UV Protection: Yes
Colorfast: Yes
Rotatable Hinges
Lockable: Yes
Lock Not Included
Shelves Sold Separately
Assembly Required
Customer Reviews: 4.3 Out of 5 Stars
Brand:

Homspark

For Sale: Where to Buy the Outdoor Shed