Do you need a quick, easy way to de-clutter your garage? The Prepac HangUps storage cabinet set has an easy-to-install system, plus it keeps your garage looking clean.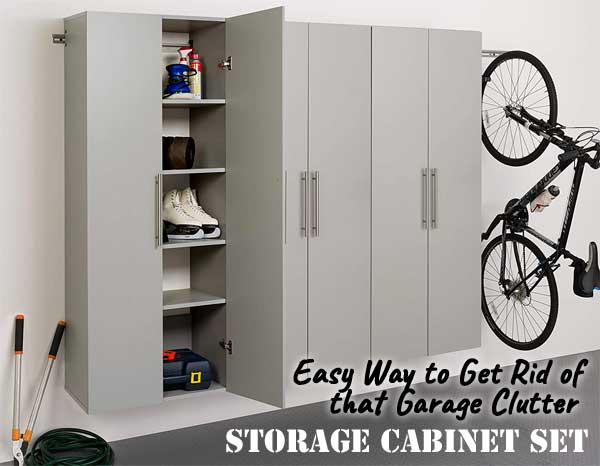 Why This Cabinet Set Works Well for Garage Storage:
1. First of all, these wall-hanging cabinets make it easy to stay organized. Each cabinet comes with 4 shelves (3 adjustable), so you can store all sorts of gear in different shapes and sizes.
For example, keep sports equipment in one locker, tools in another and cleaning supplies in another. Each shelf can hold up to 40 pounds of stuff.

2. Compared to drawers or smaller cabinets, these wall units allow to see everything at once. Therefore, you can find things faster when you need them.
3. Once the doors are shut, though, your garage looks neat and tidy. Plus, these tall utility cabinets have industrial grade laminate, door hinges and handles. In other words, they can stand up to frequent family use and stay looking good.
Note: These cabinets have a 16-inch depth, which can be an advantage or disadvantage. They conserve garage space, yet they don't allow as much storage as deeper cabinets.

If you have extra space to spare in your garage and prefer deeper shelves, you may prefer the Husky Standing Cabinet. It doesn't hang on the wall, but it is 4 inches deeper and 3 inches taller than the Prepac model.
Hanging Style Installation Gives Cabinets a Few Advantages:
The unique rail design feature of these locker-style cabinets keep them raised off the floor. Therefore, you can worry less about dirt, water, debris and critters getting into your storage.
In addition, the elevated shelves make it easier to access items, since you don't have to squat down to floor level. Not to mention, you can store slide-out tubs underneath if you need to increase storage capacity.

Specs for the HangUps Storage Cabinet Set:
Set Includes: 3 x 30″ Large Storage Cabinets
Dimensions: 72″ Tall x 90″ Wide x 16″ Deep
Weight: 388 lbs
Weight Capacity: 600 lbs (40 lbs per shelf)
Material: Particle Board, Engineered Wood
Finish: Laminate
Shelves: 12 (4 per cabinet)
Handles: Satin Nickel
Storage Area: 54 Cubic Feet
2 Color Options: Light Grey or White
Include Hanging Rail & Bolts
Assembly Required
Manufactured in Canada
Model #: GRGW-0704-3M
Manufacturer:

Prepac Manufacturing

For Sale: Where to Buy the Cabinets
How to Install Your Garage Storage Cabinets:
Below, you can see basic installation instructions for these wall-hanging cabinets. You will need a drill, stud finder, level and tape measure.
Cabinet assembly and installation is easier than you might think. First, you attach the rail securely to the wall. Then, hang the cabinets on the rail.
Note: As you can see in the video, the cabinet frames install much more easily when the doors are not yet attached. They weigh less, plus you can see what you're doing.
Finally, insert the shelves and fasten the hinges and doors. You might like this simple HangUps installation process so much that you'll get some for your laundry room, office and bathroom too. Their modular, customizable and expandable storage systems make it really easy to organize your space.