Yes, garage cabinet sets make a great solution for organizing your gear and providing work surfaces for diy projects. However, they provide a really simple and sneaky way to hide all of your clutter.

Cabinets make it super easy to transform your garage into a high-end space without a lot of know-how. Heck, they are even good at hiding ugly-looking walls.

Note: The Stack-On Cabinets are currently on backorder. Check out the Ulti-mate 5-piece garage cabinet set with just as much storage and the same convenient modular design.

However, you get locking cabinets and drawers, soft close hinges, wall mounting cleat and wire management system.
Stack-On Garage Cabinet Features:
1. High-End Look, Affordable Price
As a multi-piece set, you can get a bunch of cabinets and drawers plus a tabletop for a fairly low price. The sleek finish along with the modern hardware (satin nickel finish) gives this storage system a high-end look, but you don't have to pay a lot of money like you'd expect.
2. Maximizes Storage Space and Function
The design of these Stack-On garage cabinets enables people to maximize the storage space in their garage. As long as you have available wall space, this set provides lots of cabinets and drawers without taking up a lot of floor space (18″ deep max). Don't forget the workbench surface on top of the cabinets either!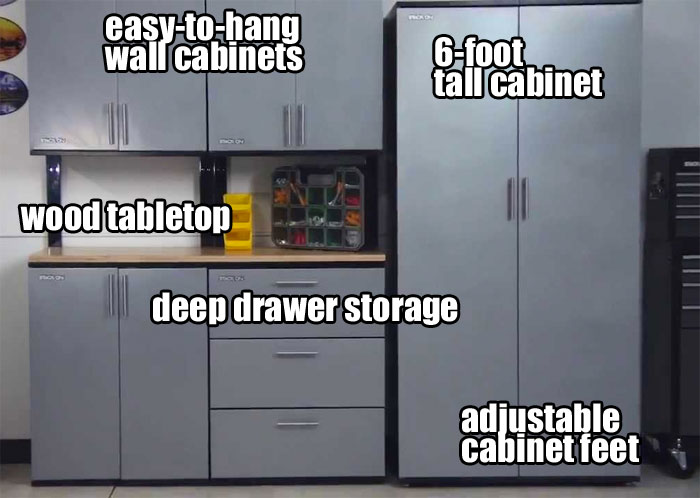 3. Flexibility, Customizable
Since the kit comes in multiple sections, you have some flexibility as to the layout of your garage storage system. Some people get 2 sets so that they can create a long workbench or turn one side of the garage into a wall of cabinets.
Alternatively, you could take the tall cabinet (or 2) and turn it into a mudroom or storage locker next to the door into the house. Then, take the other wall-hanging and base cabinets and create a work table on the other side of the garage.
Here's an Overview of the Stack-On Garage Cabinets:
In any case, you can hide all of your tools, gear and clutter behind closed doors. When you drive into your garage after a long day of work, no longer will you be overwhelmed by the mess you see in front of you. It will now be neatly tucked away out of sight (and out of mind!).
Garage Cabinet Kit Includes:
1 Full-Size, Tall Storage Cabinet
2 Upper Wall Cabinets
2 Lower Base Cabinets (1 with 2 full-length doors, 1 with 3 pull-out drawers)
1 Wood Work Surface that lays on top of the base cabinets
Specs for Stack-On Garage Cabinets:
Sturdy, all-steel construction. Compared to pressed wood, this construction will last longer and hold up better over time, making it a better value.
Easy assembly with minimal fasteners required. The fasteners don't show from the front, which adds to the sophistication and style of this unit.
9 shelves are included, so it's really easy to organize and compartmentalize your stuff. They are adjustable too.
Pre-drilled holes in back of cabinets are included for mounting to the wall. Fastening hardware included.
Cabinetry Finish: epoxy paint, black sides with gray front