Do you want garage cabinets with commercial-grade toughness and the rugged look of the steel tread plate design? Gladiator Garage Cabinets has what you want. I'm not kidding.

Buy only the cabinets, drawers, racks and tables you want. Don't buy what you don't want. Custom-design your garage to be perfect for you.
Once you have the wall system units you want, don't be afraid to make changes to your garage storage plan. Hang cabinets on walls or place them on the floor. Add wheels.

Adjust the height of your workbench. Add or move hooks and bins on the steel wall tracks. Or move the wall tracks to the other side of garage…
There are not limits. Well, some limits, but not many.

Let's take the Large Gear Box (or tall cabinet), for example.
It runs about $200, a similar price to other comparable tall garage cabinets.
However, the large gear box also comes with a magnetic latch and round key door lock. Plus, it can be hung on a wall using the optional wall bracket kit. Free up your floor space!
This tall storage cabinet measures 36″ wide x 72″ tall x 18″ deep. It has adjustable shelves that can each hold 45 lbs of gear, equipment and tools.
These tall "storage lockers" look cool as a set or in multiples, but you may be surprised at how much stuff you can shove into just one unit. And because this cabinet has a higher weight capacity, it can hold even more heavy tools, cans of paint, etc..
Base Cabinets
The Gladiator Base 2-Door Cabinet has a 150 lb capacity with adjustable shelves and locking tread plate doors. You can also add wheels to the base of the unit and/or use it as under-workbench storage.
Dimensions: 28″ wide x 31″ tall x 18″ deep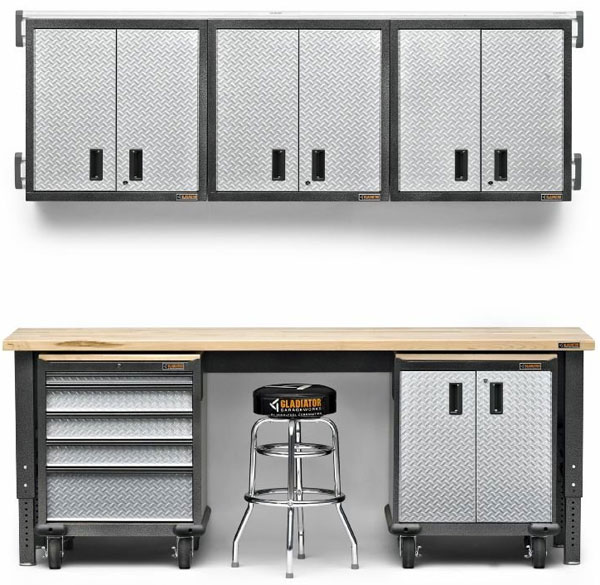 Alternatively, you could use the 3-Door Base Cabinet that utilizes a drawer and two doors for maximum storage flexibility. It shares the same dimensions as the 2-Door model above, so it's easy to mix and match and still achieve a sleek, uniform look.
Another option is the Gladiator 3-Drawer Cabinet. Again, this storage cabinet has the same dimensions and ability to hold up to 300 lbs. It's perfect as a stationary under-table unit or as a mobile tool cabinet (or both!).
How About Upper Cabinet Storage?
Upper cabinet options include the 30-inch Gear Box or the 3/4 Wall Cabinet with Shelf. The 30-inch Gear Box is great is you prefer to lock the cabinet and need the extra storage with weight capacity of 200 lbs. On the other hand, the 3/4 Wall Cabinet offers the lower shelf that is ideal for charging tools and equipment without taking up valuable workbench space.
Either unit is really easy to install, using existing wall studs or the GearTrack Channels. The advantage of the tracks is that you can re-position the cabinets as needed.
Gladiator Workbench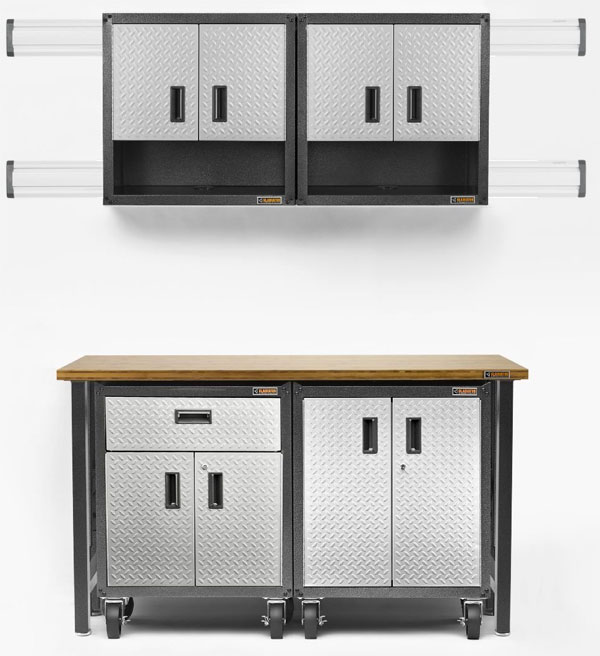 Of course, we can't forget the adjustable Gladiator Workbench. I really like this bench because it it adjustable and takes up minimal floor space. Plus, you can add (or roll) storage cabinets underneath it to maximize the storage capacity and function of the space. Brilliant!
Just as you'd expect from GarageWorks, the heavy-duty steel legs support the weight of the work surface and also provide a solid foundation that won't slide or shake as you work.
So, why do I really like Gladiator Garage Cabinets? Honestly, I like the tread plate design. It makes an impressive statement and makes the cabinets look more expensive than they cost.