Garage wall cabinets don't have to sit on the floor. In fact, you can install an entire wall of cabinets and drawers using a heavy duty metal rail and hook framework. The example above shows the Prepac "Hang-Ups" storage system.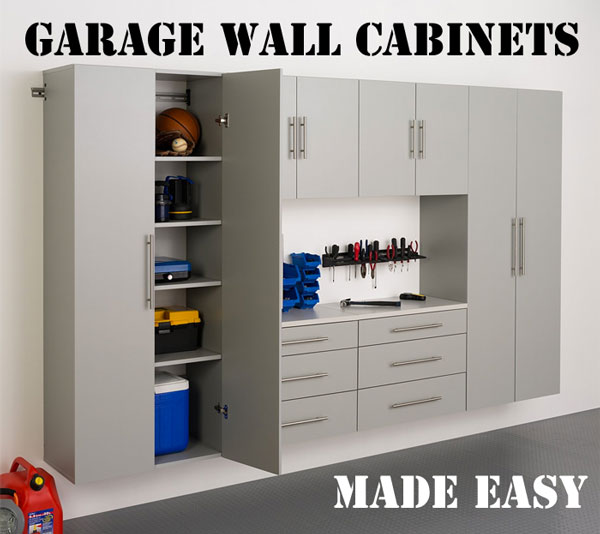 The cool thing is that you can buy all the sections separately. This enables you to custom-design your garage storage with as many cabinets, drawers and lockers as you'd like.
Alternatively, you can buy them in a multiple-piece bundle package to save money, like the
3-Piece Hang-Ups Set B (shown on the left).
Another option is the 2-piece upper cabinet with drawer base. You could use a bunch of these sets to create a wall-length storage area with workbench.
Why Off-the-Floor Cabinets?

Having wall cabinets sitting above the floor gives the space a really clean look, but it is also functional.
For example, if you are concerned about dirt or water getting into the lower cabinets, this problem is no longer an issue. Elevated drawers and shelves are also easier to reach.
On the other hand, if you want to store larger tools or equipment on the floor, now you can have your cabinets and floor space too. These garage wall cabinets give us yet another way to custom-design our storage space.

These wall units have a neutral gray laminate finish and really nice-looking satin nickel finished handles.
You can easily use them inside in a laundry room, home office or mudroom. They won't cheapen the look of the space.
In fact, adding modern units like these to your garage may have you wanting to paint the walls and stain the concrete floor too.
You may even find that you spend more time in your garage when you're done…
Get Ready to Assemble Your Garage Wall Cabinets…
These cabinets require assembly. The larger pieces can weigh a lot because they are constructed with sturdy, durable composite wood. The package includes all of the hardware you need to complete the project. However, get ready for a day or weekend project, depending on how many cabinets you plan to put together.
For instance, the tall wall locker weighs almost 130 lbs. The assembled dimensions measure 30″ wide x 72″ tall x 16″ deep with 18 cubic feet interior storage capacity.