There are so many creative ways to install or build cabinets in your garage. You don't have to have them custom made nor you have to spend a lot of money. Below are a few garage cabinet ideas…

In fact, when researching garage cabinet ideas for this site, I came across many unique storage cabinets that also could be used for other things like potting benches, recycling bins and rolling tables. Talk about doing double duty!
Furthermore, you can make your garage cabinets even more space efficient by installing sliding doors or top-opening lids. This way, you can access items inside without having to move cars out of the garage. Cool!
Whether you are handy and decide to build your own wall storage system or you prefer to buy individual cabinets and piece them together, you can go low cost while still achieving a sleek garage style.

What I really dig about these concepts is that they really make a garage more functional. Plus, when done right, you can actually increase the value of your home. In my opinion, well-planned, upscale garage cabinets are a wise investment.
Inexpensive Paint Can Go a Long Way…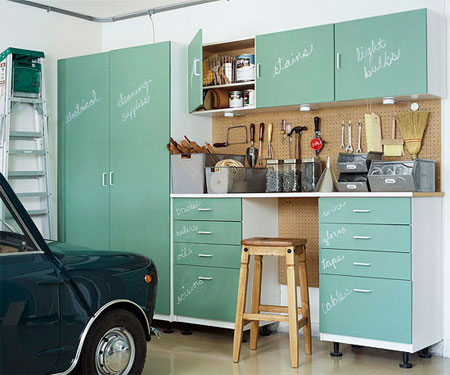 Paint is a low-cost upgrade that can instantly transform and renew any room in the house. Use tinted chalkboard paint (any color!), and your paint job can double as a cool-looking and versatile labeling system.
Chalkboard paint is easy and cheap to buy (or make for that matter). It can be tinted any color, which gives us the ability to brighten up a dark garage or use multiple colors or shades for a custom look.
The Hidden Fold-Down Table

A storage cabinet with a fold-down tabletop can provide a gardening bench, craft table, workbench or even gift wrap station. Buy one or build it yourself using an Edsal shelving unit and some pegboard panels.
This is a clever idea for storing supplies and incomplete projects out-of-sight AND having a convenient work space available when you need it. And you don't even have to buy a workbench!
Wall-to-Wall Cabinet… Closet?

If you have a small or crowded garage and don't want cabinet doors that swing out, use sliding doors! This example above uses basic closet sliders that conceal a huge mount of storage shelves. It gives the garage a modern look while keeping the area neat and tidy.
This is a great DIY alternative to wall-to-wall cabinets, it's cheap than buying individual cabinets. You can get basic hollow core doors for about $25-30 each at Home Depot and use 2 x 4's to construct the rest of the frame.
Upscale Garage Cabinet – Easy DIY Style
If you want to save money but still want a more custom upscale look in your garage, consider Walmart. Yes, they have some great cabinets that you can buy piece-by-piece to create your own wall of cabinets.

They are affordable, yet provide a dressed up look without much effort. Plus, you can paint them to create an even more sophisticated look. PS. these also work well for making a mini mudroom!

IKEA can also be a great place to find affordable cabinetry (assemble yourself). Here's a garage makeover video showing how paint and cabinets can completely transform the look and feel of an otherwise unimpressive space.