There are all sorts of cool garage storage systems to choose from. You can get shelving units, cabinets, ceiling storage and storage racks. In addition, we can add in organizational pegboards, hook systems, bins and tubs and even workbenches with drawers.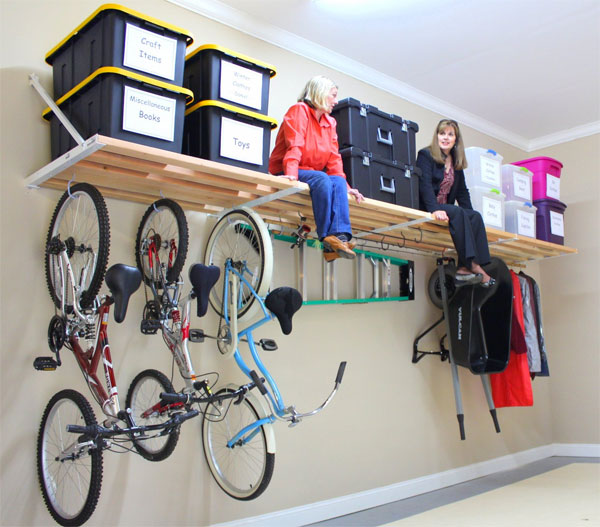 Heavy-Duty Garage Shelf System (4 sizes)
The perfect solution looks different to everyone. Some people own lots of tools and have a big workbench in the garage where they like working on projects. Other people may have a pile of sports equipment plus bikes, skis, golf clubs and more.
In most cases, though, people want to have their "stuff" out of the way but easily accessible. We want to park our cars in the garage, yet we want to be able to find that tennis racquet in 30 seconds when we decide to play a last-minute tennis game.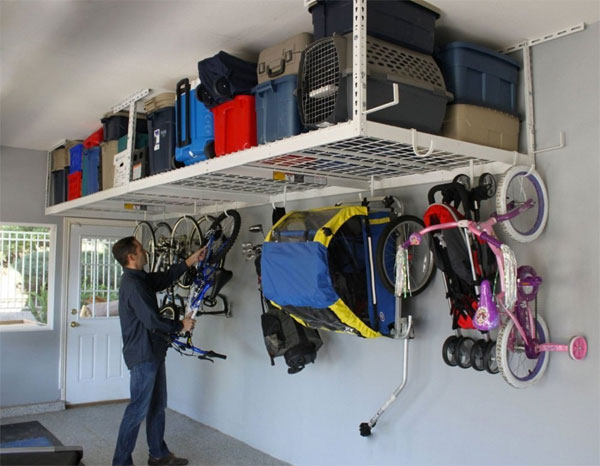 Garage Overhead Storage System with Racks and Hooks
Well-planned garage storage systems make storing and finding items easy. A big advantage to getting a "system" is that we actually don't need to plan much. The majority of the planning is already taken care of.
The ceiling shelf that doubles as a hanging rack is one of the brilliant ideas ever. It's a really simple way to store tons of boxes and tubs out of the way where you don't even notice them. Plus, you can vertically hang large items like bicycles that would otherwise take up valuable floor space.
They come in different sizes from about $150-$500.
These pre-designed kits are usually pretty easy to assemble and will organize a lot of gear. All we really need to do is take room measurements and set up the structure. Then, stock the unit with all of our things, hang our gear and vacuum the floor.


Hanging Storage Rack Gets All Your Tools Off the Ground
A heavy-duty hanging wall rack, for example, can take a significant amount of tools and organize the flat against the wall, taking up virtually no footprint in the garage. At the same time, they are easy to find and get to when you need them.
You can usually pick one up (the heavy duty version) for between $30 and $100.
Take Advantage of Floor-To-Ceiling Storage Space

I'm also a big fan of garage shelving racks that also feature hooks or rods for hanging items.
The unit pictured on the left is extra nice because it provides lots of storage space from floor to ceiling.
The shelf can also be used as a seat, and you could even turn this structure into a very efficient mudroom if you didn't want to build one yourself.
The price is right (they run between $200 and $300) for an 8-foot long storage system that is super sturdy and doesn't take much time to put together. It ships for free too.
Use Wall Space for Organizing Tools, Gadgets & Gear

Another essential item for virtually any garage is the pegboard. In fact, I have 2 interior walls of my garage covered in them. They hold all sorts of supplies and equipment and are very versatile.
The galvanized steel pegboard is one of the most popular colors (yes, you can get them in 10 colors). They make great wall panels behind a workbench, above some cabinets or between shelves. The galvanized steel is so trendy these days that people are also using these pegboards in kitchens to hang pots and pans and beside desks in offices. Who knew?