Maybe you want a wall of garage cabinets, but you don't want to spend a bunch of money I get it. I'd rather send money on things to put in the cabinets than on the cabinets themselves.
I've found a great solution. It's the Keter Garage Cabinet.
A tall unit with 4 interior adjustable shelves (5 total) costs only about $66. One tall cabinet can also hold about 200 lbs worth of gear, supplies, tools, etc…
What is the Downside of the Keter Storage Cabinet?
It is slightly shorter than some other tall storage cabinets and not as wide. The handles are plastic instead of a shiny metal or chrome. It doesn't come with a lock (although it can be padlocked). It is designed for garage use, so don't plan on using it outdoors. The unit also requires assembly.
All that said, you may not care unless you are specifically looking for these features. Keter garage cabinets offer a significant savings worth considering, even if you thought you wanted fancier garage cabinets.
Let's Calculate Cost Savings on Garage Cabinets…
This utility cabinet measures approximately 26″ wide x 15″ deep x 67″ tall. This means that you can cover a 13-foot long garage wall with storage cabinets for only less than $400.
Compare that to a different model that costs over $600 for a single cabinet! To cover 12 feet of that same 13-foot wall, you would end up paying more than $2,400.
In comparison, the Keter cabinets are a great deal. That is, if you don't mind the resin construction and don't have super heavy equipment to store.
3 More Reasons to Love Keter Space Winner Cabinets: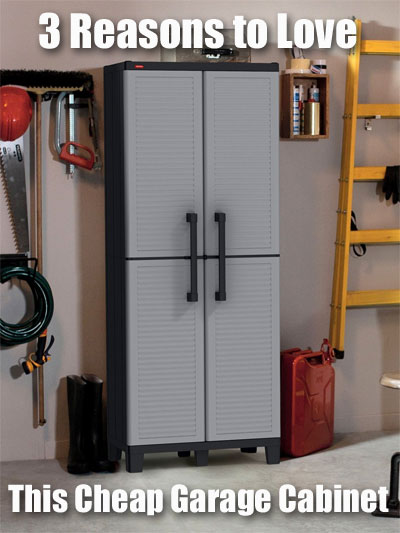 By the way, even if you aren't a fan of plastic resin furniture or storage products, you may still prefer the Keter Space Winner Utility Cabinet more expensive models. Here's why I say this:
1. Stylish, Yet Cheap
The neutral contemporary colors along with the shuttered-door design make this cabinet look more stylish.
Not to mention, the modern square door handles and legs add a sophisticated touch that can upgrade the look of your entire garage. These are actually nice enough to use in interior spaces such as a laundry room.
2. Surprisingly Durable for Low Price
Also, polypropylene resin is known for its extreme durability and ow maintenance features. No denting, peeling or rusting. The heavy duty plastic is easy to clean as well.
3. Size Advantage
Furthermore, their slightly smaller size (height, width ad depth) make them ideal for garages that have limited space. A larger unit may simply not be an option.
Specs:
Dimensions: 26.77 x 14.96 x 67.32 Inches
Made of polyethylene resin
Comes with 4 adjustable shelves, each holds up to 44 lbs
Includes 4 base legs, unit can be used with or without legs
Keter Plastic is one of the world's leading manufacturers and marketers of resin-based household and garden consumer products. They have won several awards, including sustainable industrial design.